Stem Cell Century: The Law of a Controversial Science
Since last year's discovery of a way to "reprogram" skin cells into induced pluripotent stem cells (iPS cells), there may or may not be a political way out of this controversy. But there are legal reasons why a quick end to the controversy may not be so easy to come by. (No, that's not the point of the book, as author Russell Korobkin did not anticipate iPS cells – that's just a personal observation.)
Russell Korobkin's book Stem Cell Century: Law and Policy for a Breakthrough Technology is the first book to address not just embryo destruction but the full range of important policy questions raised by stem cell research and regenerative medicine.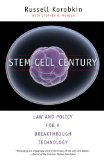 The book description available on the book's website is as follows:
"The explosion of interest in stem cell research raises a raft of controversial policy questions. When should human embryos be used to create stem cells? Should cloning be outlawed? Should egg and tissue donors be paid? Should we allow scientists to patent stem cells? Is the government entitled to a portion of the revenue from stem cell technology created with public funds? How should the regulators and courts balance the competing goals of access to revolutionary treatments and protection of the public from unknown risks?

"Russell Korobkin, with contributions from Stephen R. Munzer, provides the first thorough discussion and analysis of these and other unsettled questions of law, policy, and ethics that surround stem cell science. His clear and concise description of complex problems coupled with logical and well-balanced conclusions makes this volume essential reading for all Americans, general readers and experts alike, interested in the promise of stem cell research and the future of regenerative medicine."
The chapter descriptions are pretty helpful as well.
I'm no expert of law, but it appeared like a very comprehensive and well-researched book. To someone looking for a book that delves into the science of stem cell research, this isn't the book for you though. Oh, it provides several-page descriptions of the relevant science that are accurate, for non-scientists, but this is a book about law and legislation.
If that's what you're looking for, then by all means, check this book out.