What to Expect From Your PhD Supervisor, and What They Should Expect From You
Speakers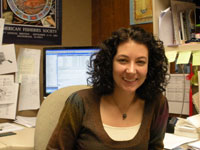 Dana Infante

Jonathan Yewdell

Phillip blower, PhD
Tutorial Video Abstract
In this webinar you will learn:
what you should expect from your PhD supervisor
what is expected from you as a student
how to pick a great supervisor and maintain a good working relationship.
Summary:
Moving from the cosy environment of an undergraduate to that of a postgraduate can be overwhelming. Gone are the days of a highly structured course with strict and regular deadlines, instead you are faced with one (seemingly very far away but very large) deadline and you somehow have to make there on your own.
Except you are not alone – your PhD supervisor is there to help. However, not all supervisors are equal and it is often difficult for a new student to know how much help a supervisor should provide and how much they should be striking out on their own.
In this webinar we have brought together three supervisors to shed light on what it means to be a supervisor, what your supervisor should be doing for you and also what your supervisor should expect from you.
Our panelist will be discussing a range of questions including what makes a great supervisor-student relationship, what to do if you feel your supervisor is not supporting you and how to pick a great supervisor to begin with. In addition, we will be welcoming questions from the audience – so bring along your burning questions.