Ranga is a Ph.D. student in the Department of Chemistry at the University of Wisconsin-Madison. In his graduate research, he studies antibiotic action on live bacterial cells using time-lapse fluorescence microscopy.
Before starting grad school, he obtained his undergraduate and Master's degrees in Chemistry from the University of Delhi and the Indian Institute of Technology Delhi, respectively; where he studied the synthesis and characterization of nanomaterials.
Ranga is passionate about scientific research and science communication; and is currently learning to balance both pursuits in his professional career. Outside the lab, he pursues his interests in Indian classical music.
Discover more about Nambirajan on their professional profiles
Articles by Nambirajan Rangarajan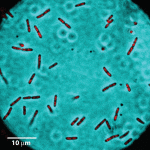 Think of the very first time you looked at cells under a table-top microscope. Here's what you would have done in that experiment: Step 1: Grow cells. Step 2: Plate cells on to a glass/quartz slide. Step 3: Insert the slide under a microscope and look. The protocol for performing single-cell microscopy has a similar…