I am a professor at Quest University Canada in Squamish, British Columbia, and an adjunct in the Department of Neuroscience at the University of Lethbridge in Alberta, Canada. I teach courses in neuroscience and molecular biology.
Discover more about on their professional profiles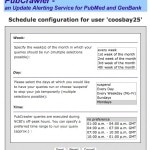 PubCrawler automatically searches PubMed and GenBank for queries that you specify, and emails you the results, helping you stay on top of your literature searches.