I am a molecular biologist and geneticist with interests in science writing, science communication, and public outreach, and I hope to shift my career into these fields. In addition to writing for BitesizeBio, I also blog on all sorts of science topics at Muller's Ratchet.
I attended Augustana College in my hometown of Rock Island, Illinois, where I graduated in 2003 with a degree in biology and minors in geology and chemistry. I moved to Seattle, Washington and worked for two years as a research technician in Meng-Chao Yao's ciliate genetics lab at the Fred Hutchinson Cancer Research Center. In 2011, I earned my Ph.D. in molecular and cellular biology from the University of Washington. For my dissertation research, I studied sex chromosome evolution in stickleback fishes with Katie Peichel at the Fred Hutchinson Cancer Research Center. As a postdoc at the University of Washington, I studied the evolution of the chromatin regulatory landscape in the mustard weed Arabidopsis thaliana with Christine Queitsch.
Unfortunately, federal budget cuts in 2013 terminated funds for my postdoctoral research. I recently moved back to the Fred Hutchinson Cancer Research Center, where I study how the nematode worm Caenorhabditis elegans controls cell membrane dynamics and fat metabolism as a senior scientist in Carissa Olsen's laboratory.
Budget cuts aside, my research interests have always centered on evolutionary questions that can be addressed at the molecular or genetic level.
When not in lab or writing, I'm probably reading, baking, hiking, or playing the piano. I'm a big fan of classical music, Star Trek, grilled cheese sandwiches, paleontology, and my stupid cat.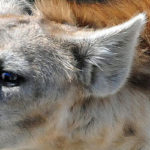 Chances are you spent some of your teenage years fretting about your social status. You may have even taken steps to change your status. New haircut. New clothes. These are very human behaviors: our complex social constructs include innate desires to broadcast information about ourselves to our peers. The nose knows Science has added layers…