Being a scientist in the making and a meditator, I honor the awareness-based work ethic and lifestyle. Cultivating a strong connection to ourselves and to the Now does not contradict with a career-driven attitude, instead, it supports us manifesting our goals.
That's why, besides science, I am also here to talk about awareness.
Discover more about Mohuizi on their professional profiles
Articles by Mohuizi Kuang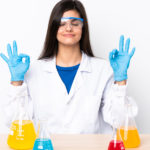 Are you frazzled? Constantly rushing from task to task? Stop and learn how cultivating awareness can make you calmer and happier in the lab.