David is a Cellular Biology PhD student studying malaria parasites at the University of Georgia. His research aims to discover druggable proteins and pathways by delving into the unique cell biology of Plasmodium parasites. When he's not obsessing over parasites, he's probably listening to true crime podcasts, watching bad reality TV, or out for a run. Find David on twitter @davwcbb.
Discover more about David on their professional profiles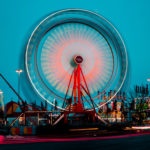 Does the term "ultracentrifuge" make your heart begin to race? Fear not! This article will provide you with tried and true tips on how to handle this piece of machinery like a boss.