Arpita is doing her PhD in Molecular Biology at Universität Bremen, Germany. She is working on gene regulation in plant roots upon ectomycorrhizal symbiosis. She has a BSc (Honours) in Microbiology from Calcutta University and MSc from Vellore Institute of Technology, India. After her masters, she worked in a biotech company for a year. She is a mountaineer, a football fan and a travel buff.
Discover more about Arpita on their professional profiles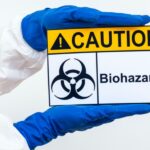 Baffled by all the safety signs in your lab? Here we give you an overview of the most common lab safety signs and tips on best practices for keeping safe.