Dance, Scientists, Dance!
Have you heard: the 2009 AAAS Science Dance Contest is open for submissions:
Are you the sort of scientist who taps her toes while working in the laboratory? Didn't I see you pirouette on your way to the fume hood? You look like you're crunching data over there on the computer, but you're actually browsing 1980s music videos on YouTube. In fact, doesn't your entire scientific career feel like one big dance, like Pina Bausch's Rite of Spring, the Village People doing YMCA, or maybe Michael Jackson dancing with zombies in Thriller, depending on your mood?
Information can be found on the Dance Contest's home page, and the deadline is November 16, 2008. Entries however are entered simply by posting your dance to YouTube, followed by an email to GonzoLabs with your name, the title of your Ph.D. thesis, and the video URL link.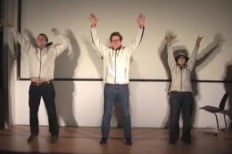 The Prize: Winners will be paired with a professional choreographer. With the choreographers' help, each winner will get to have a single peer-reviewed research article that they co-authored, including its aims, the hypotheses it tests, and its big-picture context, distilled into a dance. The four choreographers will collaborate to create a single four-part dance based on the winning research articles.
Winners will also be honored guests at the AAAS Annual Meeting in Chicago, Illinois, where, on 13 February 2009, you will have front-row seats to the world debut of the output — THIS IS SCIENCE — a contemporary dance interpretation of contemporary scientific research.
It's kinda neat. Check out last year's contest as well. Molecular biology was proudly represented.
Also noted in the report from last year's contest:
After the dance contest had ended and the judges had retreated to a quiet room to add up the scores, the reins of the event were handed over to the scientist-DJs for the main event, Molecular Code. […]

The idea for Molecular Code started, Campregher says, when he listened with new ears to "all those common sounds produced on a daily basis in molecular biology labs – by devices such as sequencers, centrifuges, beta counters, luminometers, and so on. Since everything we hear is based on oscillating sound sources, it can be transformed into musical patterns and rhythms." It seemed like perfect material for a Milkcrate session, he says, "but an ABI Prism 310 DNA sequencer does not fit into a milk crate." So Campregher and Tomczak launched Molecular Code with a new constraint: Only lab sounds are allowed.