BioConference Live: a Free Online Conference for Life Scientists!
Posted in: Of Interest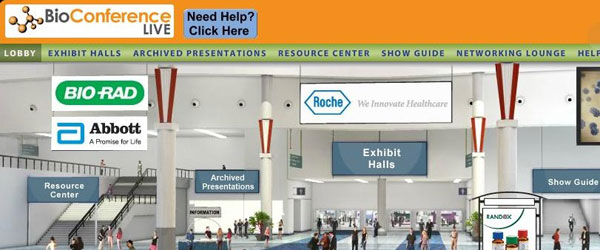 It's that time again: BioConference Live is hosting its (free!) virtual life science conference next week. This two day, all-online event brings speakers on a huge variety of topics right to your desktop and is a great way to catch up with the latest and greatest in the life sciences without having to travel further than your computer.
This week's conference is happening October 26-27. You can attend seminars, ask questions, visit vendor booths, and even chat live with company representatives and fellow conference attendees! Click here to book your place.
Before you go, here are some of the highlights of this year's Bioconference Live:
Keynote Speakers:

A Revolution in Personalized Medicine – from Concept to Reality; Kevin E. Hrusovsky, M.B.A., Caliper Life Sciences
Reading and Writing Genomes; George Church, Ph.D., Harvard Medical School

Engineering Targeted Proteins for Intracellular Delivery of Biotherapeutics; Christopher M. Pirie, Ph.D., Massachusetts Institute of Technology
Novel Solutions for Detection and Measurement of Autophagy: Applications for drug discovery & development; Randy Strube, Ph.D., Enzo Life Sciences Inc.
Human microbial reference genomes as a resource for metagenomics; Sarah Highlander, Ph.D., Baylor College of Medicine
How to use the iPad in the lab: what's available and what's coming; Rory Macneil, Axiope Limited
Using systems biology to accelerate oncology drug development; Matthew Onsum, Ph.D., Merrimack Pharmaceuticals
Single-molecule sequencing: the long and the short of it; John Thompson, Ph.D., NABsys
For more details on this free virtual event, click here to visit the Bioconference Live website.