Should children ever be in the lab?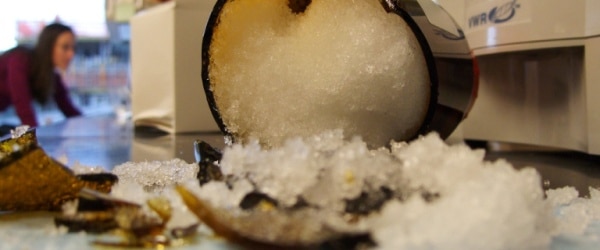 Have you ever brought your children to the lab, or found your colleagues' kids running around unexpectedly?  A research lab is a risky place to bring a kid, considering all the potential hazards.  In the UK, Health and Safety laws explicitly forbid the presence of children in the lab, because it is such a dangerous environment.  In the US, the official policy is similar, but rarely enforced.  Because of this relaxed attitude to the rules, I have often run into boss's and co-workers' kids, in several different labs.  A few conscientious parents will bring activities: a DVD to watch in Mom's office, or a game to play on Dad's computer.  On the other hand, I once had a boss bring in his two toddlers and leave them in the break room with a couple of post-docs to watch them all day.  What to do if you're unexpectedly stuck with kids in the lab to distract or entertain?  I've come up with a bag of tricks to keep them entertained so they don't go poking their fingers where they don't belong.  Here are a few fun and safe things for kids to play with in the lab:
Tube labels: they may look boring to you, but to a kid, they're stickers!
Latex gloves: blow them up, draw faces on them, use them as a weirdly shaped "pockets" to hold treasures….the possibilities are endless.
Dry erase markers: young kids love dry erase boards, and can scribble happily for hours.
Post-its: these are always a big hit;  but be advised, you need to be willing to part with the whole pad!
Conical tubes: toss a couple of paperclips into a 50 mL tube to make a pretty awesome noisemaker.
Tinfoil: makes excellent hats in a pinch.
Inoculating loops: these are not a bad substitute for pick-up sticks, especially if you have them in a couple of colors.
What is your opinion on bringing kids into the lab?  Do you have tricks and tips to keep them entertained?