BioPop Rap Battle: Tom McFadden vs Science Rapper. Who Gets Your Vote?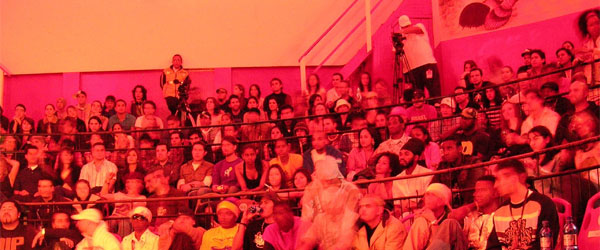 Get ready for a battle between two red-hot rappers who have smashed onto the BioPop scene in the last year.
Introducing the Contestants
Tom McFadden
Tom McFadden, a former Stanford biology course instructor-turned scientific communicator  emerged from the California BioPop scene (BioRap branch) with his hit single Regulatin' Genes, which saw him featured in national newspapers like The New York Times and The Guardian.
A serial collaborator, McFadden teams up with different artists in each of his productions and he rapidly followed up Regulatin' Genes with a string of ingeniously-crafted raps aimed at helping his students to understand biology.
Picking out our favorite from Tom's back catalogue for this contest was difficult but we have gone for the amazing, Oxidate It Or Love It / Electron to the Next One. Enjoy.
Zach Powers a.k.a. Science Rapper
From the other side of the USA, New York to be precise, a young PhD candidate called Zach Powers (known to some only as Science Rapper) is challenging McFadden's dominance of the BioRap scene.
Powers is more underground than McFadden. Fact. He has fewer singles, fewer YouTube views and none of the international press coverage that McFadden has enjoyed. But don't let that fool you.
His debut single, PCR Rap saw him rocket to fame in the (science) festival and club scene in 2010 and his direct, laid back-style is a joy to behold whether you are a scientist looking for entertainment or a student looking to learn.
For this duel, we are putting forward Zach's powerful and engaging single, The Structural Biology Rap. Hold onto your hat.
Vote for your Favorite and Win an Amaaaaazing Science T-Shirt!
You, the Bitesize Bio readers will decide who wins this battle. Your comment either at the bottom of this article, on our Twitter page or our Facebook page saying who you prefer will count as a vote for your favorite.
And to thank you for taking part, one commenter from each place will be selected at random to win the grand prize of a t-shirt from our new (and surprisingly popular) t-shirt store. (Hint: if you leave a comment on here, Twitter AND Facebook, you'll have three chances to win… woohoo!).
So which do you like best? Get voting in the comments section and on our Twitter and Facebook pages.