Yonder Biology: Bringing Science to "Mom and Dad"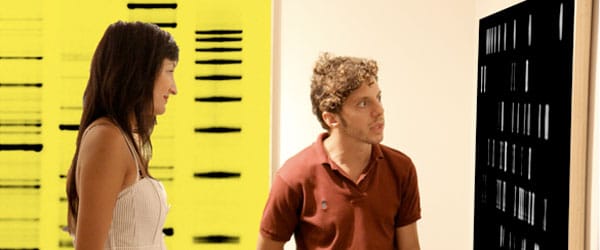 Who is Andy Bass?
Answer: A surfing scientist turned businessman from Alabama with a passion for educating the world about molecular biology.

Andy is the CEO and founder of Yonder Biology, a brand new biotech company located in northern San Diego county here in California. I had a chance to speak with Andy about his new venture into personalized DNA art. I was really impressed with Andy's passion for bringing science to the public and using his new company as a platform to further educate people on how science is impacting their lives.
You may recall Alex's pre-holiday's Bitesize Bio article on dealing with family stress when you've had to explain over and over "I'm not that kind of doctor!".  Yonder Biology aims to help in bridging the gap between the kind of doctor that does molecular biology with the rest of the world and for him, the bridge begins with molecular art.
Andy received his bachelor's degree from the University of Alabama, Birmingham and went to work in biotech sales for Life Technologies, back in the pre-Invitrogen days.  Ten years after graduating college, he is ready to embark on his own frontier, taking a leading role in developing ways to make science understandable for non-scientists.
In my interview with Andy, we discussed his plans for the new company and advice he has for budding entrepreneurs who think they have a cool idea and want to try to be their own boss.
Tell us about your background?
On the science side I have a bachelors of science in molecular biology from UAB and have worked in the lab in industry as a associate scientist. On the business side, I worked in business development and sales. I've always been entrepreneurial and creative. While that hasn't been my career, it is always my driving force. Now with Yonder Biology I get to blend the mix of creativity and science.
What were you doing before you started this business?
I was working for Bio-Rad in sales and I covered southern California and all of the pharmaceutical and large biotech accounts. Before that I was working for Sigma Aldrich in sales.
What gave you this idea to make art out of DNA?
I called a couple friends who have the creative and entrepreneurial drive too and when you explain to people not in science what you do, it's always interesting and they have a hard time grasping it. We thought about how to bridge the cutting edge research going in in life science industry with the every day consumer: "mom and dad". DNA art is a simple but meaningful way to involve them in science.
I really wanted to blend creativity and science together into a product and looking at what is out there now, we saw personal genomics, DNA chips, and next generation sequencing as areas where we wanted to be involved. But we took a step back and said "OK what can we do right now?" So what we did was create the personalized DNA art portrait and this is just the beginning. We are working towards incorporating next gen sequencing into our offerings and marketing that to the everyday consumer.
And not necessarily in art. We have bigger dreams. We are starting on the creative end but want to bring science to the average person.
Looking forward, we see this as a small educational step, where mom and dad can see what DNA looks like, to when personal genomics really enters the mainstream market and doctors are making decisions based on your genome. One area we want to go into is finding ways of presenting life science research to the public. So an education role is one option.
How did you get your company started?
We got a core group of people together who were all interested in these same goals and invested our own money as well as put some ads on Craigs list to get the core equipment, like a thermocycler and basic gel equipment and we built our own imaging system. We received a small amount of angel investor money to help us out. Currently we have a lab only and are looking at a few spaces where we can merge a lab with something like an art gallery.
How hard was it to get started? What does it take to start your own biotech company?
We got it up and running pretty quickly and we thought it was as easy as run PCR, run a gel, take a picture. Then we realized we had to design a website that was search engine optimized, we had to come up with a way to collect the DNA, then how we will package the final product, etc. So there are all of these little things that you need but don't necessarily anticipate or think about when you first start out but you need answers for.
I would say that you don't know the questions until you get started, when it is your first venture.
Where does the name Yonder Biology come from?
Interesting story.  I was out on my surf board here in Carlsbad sitting in the water with friends I grew up with from Alabama and we were pointing to something in the water and I said it was "over yonder" and then I said it again. I went back and proposed it to a couple of the guys. I asked what  "yonder" means to them and they said "the horizon", "beyond", and "the future".  We really liked these three themes on what "yonder" meant to us. So we stuck Biology on the end and we had our name.
How does it work? What methods are you using in the lab?
It is DNA fingerprinting. We'll send out a DNA collection swab and you'll rub on the inside of your cheek, send us back the swab in an envelope, and we'll extract the DNA. We test the purity (260/280 ratios) and then we'll do PCR to amplify the STRs. The specific primers pairs we use we are not disclosing but will tell people the general chromosome locations. We use particular ones and orient them the same on all the gels.
After gel electrophoresis and staining, we take the picture with our custom imaging system. The unique thing about our imaging system, is that it is so high resolution, we can essentially put the picture up on the side of a building without losing any quality.
We have experimented between saliva samples and swabs and we get a lot more DNA with saliva but we weren't sure what we would get back from people so we thought it was more sanitary to use a swab. The DNA yields are more than enough.
Did you have any qualms about moving from hard science to science art?
Our company hasn't taken our eye off of hard science. We see that as the core of what we are doing. For example, if any issues come up in the lab, we have to be scientists and use our background to solve those problems. And looking forward we want to grow in the personal genomics space so we are up on cutting edge technology such as whole genome amplification and next-gen sequencing technologies. While what we do is for consumers, we plan to make our name in personal genomics in the future.
How did your family and friends respond to your plans to quit your job and begin this venture?
Everyone that knows me probably thinks I am a little bit crazy anyway? But everyone in my family knows we have a plan for the company and we have milestones to make sure we are moving in the right direction so it's a very calculated risk and my friends and family have been very supportive. We set timelines in place where we want to have certain things accomplished and if we are not on track, what do we need to do.
Have you had any unusual or fun requests (ex. pets)?
We recently opened up our DNA art to pets so we've done a handful of dog DNA portraits. We've also had a request for whole genome sequencing for whales. One other thing we've done is launch "Duet" and "Quad" DNA portraits- so a couples portrait or family portraits. Currently we can combine up to four profiles on the same canvas.
What advice do you have for other entrepreneurial scientists who think they have a novel idea and want to start a biotech company?
Surround yourself with the right people. You don't have to know everything but it's good to have people who know the things you don't. Diversity is good. Going from web design to PCR, to even the legal aspects its good to have people who can contribute different aspects.
Also things sometimes take longer than you expect or cost more than you expect so you have to be prepared. My advice is to take a conservative approach when looking at financials and sales projections.
Thanks Andy!
It sounds like Yonder Biology has clear direction and goals and an exciting future ahead. At the dawn of personalized medicine, a company like Yonder Biology will be at the forefront of educating the public.
If you live or work around the San Diego area, Andy will be exhibiting at the San Diego Science Festival March 27th and will have some DNA portraits of UCSD professors on display at The Loft.
You can follow Andy on Twitter at http://twitter.com/yonderbiology
Let us know what you think about DNA art. And if you have any questions for Andy about his products, or on starting a biotech company, please leave us a comment.