Why Bioscientists Should All Buy Macs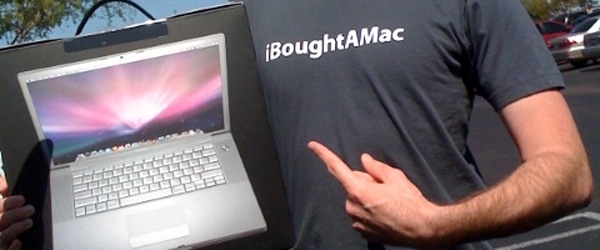 Macs are great and there are a lot of reasons I recommend them to anyone who asks my opinion on which computer they should buy. But for bioscientists, perhaps the best reason to buy a Mac is summed up by one word:
Mekentosj is dedicated to producing fantastic software that addresses the needs of bioscientists. And they do know the needs of bioscientists, because the company was spawned from efforts by founders Alexander Griekspoor and Tom Groothuis to build software that would make their own lives as PhD students easier. Now 8 years later, Mejentosj is Mekentosj Inc. and they have an array of software that you will doubtless find useful, much of it for free.
That's the good news. But the (possibly) bad news is that it's all for Macs.
So what do they have that's so great?…
4 peaks (freeware):  This was my first introduction to Mekentosj. 4 peaks is a very slick, robust and easy-to-use DNA sequence viewer. If you are using something else to view your sequences I have no doubt that 4 peaks is better…. try it.
EnzymeX (freeware): A very, very nice DNA sequence editor. Import your sequences manually or directly from NCBI, cut them up in silico with any of the 580 commercial restriction enzymes in the EnzymeX database, easily choose which buffer to use for a double digest, make restriction maps, search for motifs, calculate stuff with the whole bunch of built in. You get the idea. In the words of the creators "Finally a powerful DNA sequence editor that doesn't look like it comes straight from the 1980's."
Target Scanner (freeware + open source): An easy-to-use graphical interface for identifying microRNA target genes using the UNIX Target Scan application developed by Lewis et al Cell 2003 vol.115 pp.787-798 .
Lab Assistant (freeware): Organise yourself in the lab. Create to do lists, track your experiments, manage multiple timers.  Nice.  Doesn't make coffee though, unfortunately.
iRNAi (freeware): A feature-packed program for designing RNAi knock-down experiments.
Papers ($42; student discounts available): When it comes to organising your literature, Papers is the Daddy. It's creators call it "ITunes for Papers" which sums it up very well. Try it for free and see how it could simplify your life.
Papers for IPhone: Now you can view your papers library on the go with the Papers IPhone App.
Solutions for IPhone: This App allows you to calculate chemical solutions in the from your phone. Make sure you don't have your gloves on though. Solutions is also available as a dashboard widget.
These pieces of software all target specific and common problems that have been identified by real bioscientists on the ground. It is this mindset that makes Mekentosj special. The company seems to be going from strength to strength under now-CEO Alexander Griekspoor.
But I'd guess that now, since they are concentrating fully on software development, their challenge will be to maintain that grounded approach and make sure that their solutions address the most pertinant day-to-day problems faced in the lab. Let's hope they can because I'd love to see a lot more stuff from them.
Would you buy a Mac just to run Mekentosj programs?
Related articles:
Free Mac Software for Molecular Biologists
Free PC Software for Molecular Biologists