Arthur Kornberg, Biochemist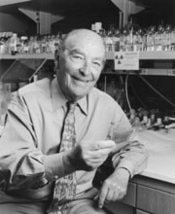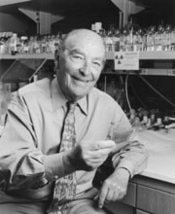 In memorandum of one of the pioneers of molecular biology, who was awarded a Nobel Prize in medicine for the discovery of DNA polymerase. What molecular biology blog would this be if we didn't honor his memory? Larry Moran presents a fine eulogy, as does the NYTimes:
Dr. Arthur Kornberg, a biochemist whose Nobel Prize-winning discovery of how DNA is assembled helped ignite the biotechnology revolution, died on Friday in Stanford, Calif. He was 89 and worked in his laboratory at Stanford University until a few days before his death.
The cause was respiratory failure, a spokesman for Stanford said.

Dr. Kornberg was one of three Nobel Prize winners who were members of the extraordinary City College of New York class of 1937, including Dr. Herbert A. Hauptman and Dr. Jerome Karle.
Also, he was one of six Nobel laureates whose sons also won Nobel Prizes. In 2006, Roger D. Kornberg was the Nobel chemistry laureate for creating the first pictures of how genes convey messages so that cells can make proteins.
In 1959, Arthur Kornberg was awarded a Nobel Prize in medicine for the discovery of DNA polymerase, an enzyme needed to synthesize the master molecule of heredity.
That discovery and later ones became essential steps in gene splicing and other techniques involved in genetic engineering. And the techniques led to the design of many drugs now used to treat cancers, auto-immune diseases, AIDS and other viral infections. Dr. Kornberg, in interviews, said those successes had provided critical evidence that basic research was essential to making practical medical advances.
Dr. Kornberg was a passionate scientist who believed that an enzymologist, if persistent, could recreate in a test tube the kind of metabolic event that happens in a cell.
In choosing his field of study, he said, he had "responded to the lure of enzymes." His ambition was to discover the enzymes that made RNA and DNA, which are polymers, or chains of nucleic acids. To accomplish his goal, he said, he first had to determine their building blocks – the letters of the genetic alphabet known as nucleotides. It was a feat that many scientists said could not be done in a laboratory.
The Journal of Biological Chemistry initially rejected Dr. Kornberg's two classic papers. He said the journal told him that a peer, the noted scientist Erwin Chargaff, had written "an exceedingly sarcastic letter" in assessing his findings.
After a heated exchange with the journal, Dr. Kornberg decided to withdraw his papers. But just then, Dr. John Edsall, who was taking over as the new editor, saw the exchange and overruled the earlier decision. The papers were published immediately. That was in 1958, a year before Dr. Kornberg was awarded the Nobel Prize.
In 1967, Dr. Kornberg and his team became the first to produce the active inner core of a virus in a laboratory. President Lyndon B. Johnson hailed the report of the feat as "one of the most important stories you ever read" because it "opens a wide door to new discoveries in fighting disease and building healthier lives."
The announcement led to headlines reporting "creation of life in a test tube." But Dr. Kornberg disputed that characterization, saying he considered it part of a series of advances that had speeded up development of genetic engineering.
Over the last 15 years, Dr. Kornberg focused his research on an enzyme that produced polyphosphate, a substance found in every bacterial, plant and animal cell. Scientists had discarded it as a molecular fossil. But Dr. Kornberg and other scientists identified a number of significant functions for polyphosphate and believed it could be used to develop new drugs for a variety of dangerous infections.
He complained bitterly, however, that too few scientists studied polyphosphate, largely, he said, because of science's proclivity to work "in a clannish way." With more scientists struggling for grants in an era of tight budgets, he said, "nobody is going to propose doing anything that is bold or creative," like working on polyphosphate.
Arthur Kornberg was born in Brooklyn on March 3, 1918. As a youth he helped out in his parents' hardware store. He was only 15 when he entered the City College of New York.
Dr. Kornberg earned a medical degree from the University of Rochester in 1941 and interned at Strong Memorial Hospital in Rochester. He applied for research training grants but failed to receive any, he said, because of anti-Semitism.
His research career evolved from a paper he published in 1942 about the mild jaundice that he noted among fellow medical students. Dr. Rolla Dyer, then the director of the National Institutes of Health, read the paper and arranged Dr. Kornberg's transfer from sea duty in the Navy to the institutes to do nutritional research involving vitamins and enzymes.
Dr. Kornberg worked at the institutes from 1942 to 1952, taking time to study at other centers. One stint was at New York University with Dr. Severo Ochoa, with whom Dr. Kornberg shared the Nobel Prize.
In 1953, Dr. Kornberg left the institutes to become chairman of the department of microbiology at Washington University in St. Louis. In 1959, he started a department of biochemistry at Stanford, where he remained as chairman until 1969. In the 1980s, he helped found a research company, DNAX, which is now part of Schering-Plough.
Besides his son Roger, of Atherton, Calif., Dr. Kornberg is survived by his third wife, Carolyn Frey Dixon; two other sons, Thomas B., of San Francisco and Kenneth A. of Portola Valley, Calif., and eight grandchildren. His first two wives, the former Sylvy Ruth Levy and the former Charlene Walsh Levering, predeceased him.