Navigating the Sea of Human Genetics, Part I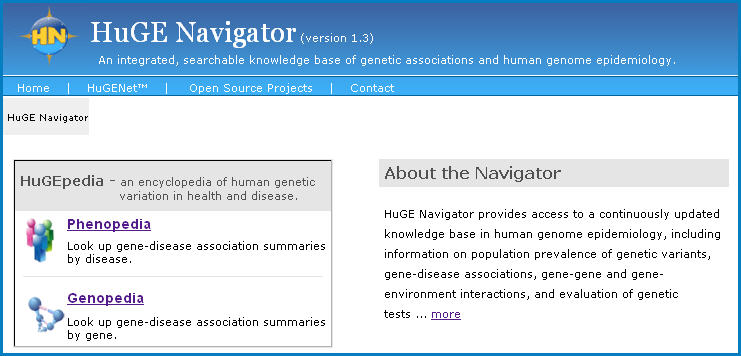 At my workplace we've recently become EXTREMELY excited about a resource called the HuGE Navigator. It's so great that it's going to take me a couple of articles to highlight its features. Hop on board to learn a little about it!
So What is HuGE Navigator?
HuGE Navigator is an integrated set of continually updated applications for accessing data on human genome epidemiology.
This includes gene-disease associations, genetic test evaluations, genetic variance prevalence in certain populations, and gene-gene and gene-environment interactions.
It is a tool for exploring HuGENet, the Human Genome Epidemiology Network, which is
"a global collaboration of individuals & organizations committed to the assessment of the impact of human genome variation on population health & how genetic information can be used to improve health & prevent disease."
Phew.
HuGENet and HuGE Navigator are supported by the National Office of Public Health Genomics (NOPHG) at the Centers for Disease Control and Prevention (CDC). HuGE has been around since the late 1990s, HuGENet since 2001, and HuGE Navigator since 2007.
Personally, I'm embarrassed that it took me so long to make use of these free resources.
Well, What does HuGE Navigator Offer?
For starters, the HuGEpedia, which is an encyclopedia of human genetic variation in health and disease that includes the sub-pedias (ha!) Phenopedia and Genopedia.The former allows you to find information starting with the disease/syndrome name and the latter by gene name.
In general, HuGEpedia is a searchable database that summarizes published articles about human disease and genetic variation, including primary studies, reviews, and meta-analyses. It provides links to Pubmed abstracts , researcher contact info, trends, and more.
For example, type "Seasonal Affective Disorder" (aka SAD) in Phenopedia and you'll get a list of 7 genes associated w/that disorder. But before we dive into the genes, have a look around the rest of the page.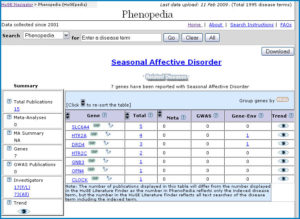 Clicking on the disease name provides a comprehensive list of synonyms and other info from the Unified Medical Language System (UMLS) Metathesaurus.
Clicking on "Related Diseases" provides a list of connected disease terms stemming from a literature-based disease network (i.e. 2 diseases are connected if they share the same genes).
Using our example, there are 11 disease terms associated with SAD.
Going back to the disease results page, you'll find that the info is organized in a table format, with an overall summary on the left side of the page that also provides definitions for each of the categories.
A very nice feature here is the link to investigators who have published on your disease of interest.
You can find links to those papers as well as links to all papers by that author that have been indexed in HuGE. The Investigator Browser even divides your query results by all authors versus first/last authors.
The Trend option provides a graph of query publications by year in addition to a Google Map showing the global location of where studies have been conducted. Cool!
Now, onto the Disease-Related Genes Themselves
Let's start by just going through the table, which can be re-sorted by any of the categories as you see fit.
Clicking on a gene name gives you a long list of links for the following types of info:
General (Entrez Gene, GeneCard, PharmGKB, etc.)
Literature (PubMed, HuGE Literature Finder, etc.)
Gene Variation/Prevalence (dbSNP, SNPper, HGMD, etc.)
Pathway (KEGG, BioCarta, PID, etc.)
Microarray (GEO)
Miscellaneous (NCBI Gene Ontology, GeneTests, etc.)
That is a whole lotta information with a simple click of a mouse.
And There's More
Next to each gene name is a link to HuGE-compiled SNP info (such as a list of all synonymous SNPs for that gene) and a link to HuGE-compiled diseases associated with that gene.Using our SAD example, the first gene, SLC6A4, has 209 disease terms associated with it.
Again, lots of info, little effort on our part.
The next column provides a list of and links to PubMed articles on your disease and gene of interest. If you get a lot of results, you can filter them by category, study type, journal, etc.
If there are any Meta-analyses or Genome-Wide Association Study articles on your disease/gene of interest, they are also listed.
Sadly, our SAD example doesn't currently have any.
Articles on gene environment interaction studies are also provided. The Trend option is the same as described earlier, but specific to the disease-gene combo rather than the overall trend for the disease alone.
The last option of note is that you can re-organize your results according to genes in KEGG pathways. This is a useful option for exploring your disease genes in a functional context.
What About Genopedia?
Well, briefly, Genopedia offers the same type of info, but from the starting perspective of the gene instead of the disease.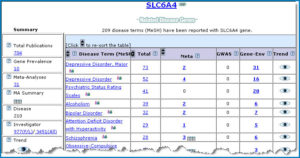 Continuing with our SAD example, if we enter the first gene on our list, SLC6A4, into Genopedia, we get that list of 209 associated gene terms (as mentioned earlier).
I'll leave it to you to continue exploring this database.
This is plenty for now, don't you think?I'll be back next time with descriptions of the HuGEtools.
Don't walk the plank yet – you'll want to learn about Gene Prospector!
Originally published on February 18, 2009.  Updated and revised on May 11, 2016.