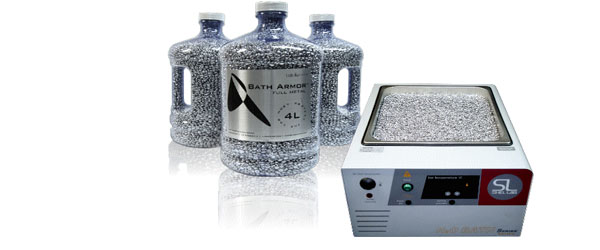 Are you tired of having to clean dingy, moldy waterbaths? Or tired of babysitting the heat block to make sure the temperature stayed where you set it? Well there is a new solution to this problem.
I just recently discovered something called Bath Armor by a company called Lab Armor. I was walking by my co-workers bench and couldn't help but notice that his heat block was full of these shiny silver raisinette looking beads. I asked what he had and he told me it was a free sample of something called Bath Armor.
Bath Armor replaces water in a heat block or waterbath, doesn't get moldy, and doesn't evaporate. It looked really convenient and it covered the microcentrifuge tubes well. And, because it is a pile of beads, it turns a 24 well heat block into a device that can hold many more tubes. I decided to request a sample and try it out.
My sample arrived and I emptied the bag of silver rocks into my small heat block and it was enough to fill it about 3/4 full. I decided to put it to the test and performed an FFPE tissue DNA extraction which has a 1 hr at 90C step that always gives me a trouble. Normally my heat block does not hold at 90C steady and I need to check and adjust it every 5-10 minutes. Invariably it falls below 85C or shoots past 95C during the hour incubation. These Bath Armor beads performed spectacularly.
The block maintained 90C perfectly for the hour and never varied more than 1 degree in either direction. I was actually able to get more work done because I wasn't babysitting the heat block.
Besides the benefits of increased temperature stability and the cleanliness of using the beads over water, they also look great. The shiny stainless steel appearance provides a clinical look to the heating device. We all love the Bath Armor and plan to switch our baths over to this superior method for heating samples since it requires no maintenance at all.
Since I loved the Bath Armor so much, I ordered the Chill Bucket with their February promo code to get 20% off. What could be more convenient than a never-melting ice bucket that can accomodate any size tube and can hold -20C for up to 8 hours? It can even be used to maintain -80C.
It seems that you rarely come across really unique products that address actual needs in a busy lab and still have the cool factor. Lab Armor hits a homerun with these innovative and helpful products.
Check it out and request a sample of Bath Armor while they still have some left!