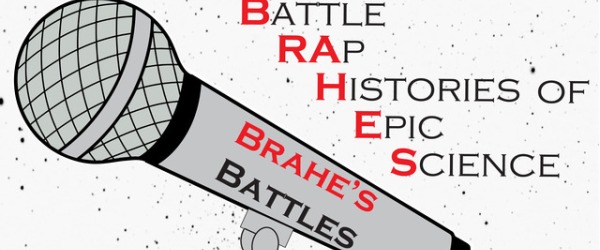 "Science" and "rap" are not the two words I expected to find in one sentence. How very small-minded of me.
Much to my surprise I discovered that in 2010 Bitesize Bio had a BioPop Rap Battle between nationally-recognized Tom McFadden and a relative newcomer, Science Rapper. In this epic battle between the Cassius Clay and Sonny Liston of science rap, you, the judges, decided that experience won.
But although I like sleek science rap videos starring Tom McFadden, a former Stanford biology course instructor-turned scientific communicator, I am more excited about his new project.
Tom has started a crowd-funded venture to make five professional music videos with middle school students.  His project, called Battle Rap Histories of Epic Science (Brahe's) Battles, will challenge inner-city school students in the San Francisco Bay Area to write, perform and produce videos highlighting a debate in science history.
The topics are… (drumroll):
"Is Pluto a planet?"
"Rosalind Franklin vs. Watson & Crick" (my favorite)
"Tycho Brahe vs. Johannes Kepler"
"Alfred Wegener vs. 'The Fixists'"
"Black Plague vs. Yellow Fever"
The project participants will learn a lot of skills, such as science review, rhyming, lyric-writing, audio and video production.
Depending on the size of the backer's pledge, (s)he will get digital goodies starting from receiving one of the soundtracks up to having her/his name included in a rap!
Bitesize Bio couldn't resist a possiblity of fame – it has become a backer and it is looking forward to hearing "Bitesize Bio" being rapped by the young stars.
It would be great if our readers could also back up the project – I have done it.  But hurry, donations must be received by April 16, 2013!
Watch the following video to see Tom talk about his project.