Goodbye from Bitesize Bio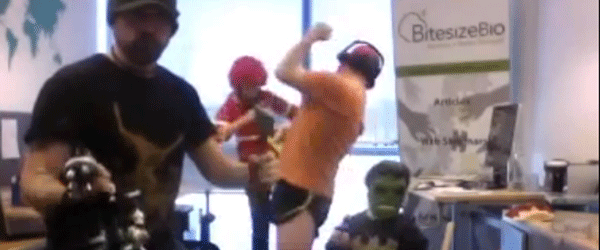 It is with some regret, but much optimism for the future that we announce that BitesizeBio.com will cease to produce further articles and videos for biologists at the end of this month.
We have been in business producing fantastic content to help scientists at the bench since 2007 and have grown our audience tantalisingly close to 100,000 wonderful scientists per month.
As much as we absolutely love what we are doing with Bitesize Bio, sometimes you are presented with an opportunity that pulls you from deep inside. An opportunity that you simply cannot walk away from.
So from 1st May, BitesizeBio.com will become home to "The Bitesize Bio School of Dance". This is in response to the overwhelmingly positive response we have received in favor of the enviable dancing skills of our editorial team. Yes we were suprised too, but our audience has spoken. And we must respond.
Speaking at Bitesize Bio HQ, Associate Editor Julie Hastings, said:
"We made our Harlem Shake video for a bit of fun one Friday afternoon, but it has quickly gained so many "likes" on our Facebook Page that we feel that this is a signal from our audience that we are duty bound to respond to. We must follow this calling and pass these skills on."
Channel Editor and Biz Dev Guru Martin Wilson was contemplating his forthcoming career switch with a few days' break in the Scottish resort of Innerleithen. We managed to catch Martin on Skype as he enjoyed a Pinacolada with his agent. Martin said:
"I will miss the buzz of running Bitesize Bio as an online magazine. But, Man, I love Dance. It's AWESOME. I've got the bug and I really think we have a lot to offer as a dance coaching team for scientists"
We hope that our readers and partners will understand this decision and be supportive as we take these bold steps into the unknown. Thanks to you all for making Bitesize Bio such a blast, and we hope that you will join us soon in the world of dance. A short intro to the services that the Bitesize Bio school of dance will be offering, follows.
Dance Lessons Available
Nick "The Man in the Scary Shorts" Oswald
Few people can bust moves like Nick. And he will teach you to be one of the few. For a very reasonable hourly rate, you too can master Nick's "Arms Only" dancing style and move one step closer to being a star in your own right.
Julie "Kung Fu Fighter" Hastings
"I kicked my boss in the head at the end of a YouTube video" is not something that many people can put on their resume, but Julie can. Julie's martial arts expertise is reflected in her dancing style and she will happily teach you how to take out people who can't dance, so you can have the floor to youself.
Martin "The Microscope Pumping Lumberjack" Wilson
Martin or "Marty" as he has asked to be known from 1st May when the dance school goes live, combines Dance with Body Building. So if you want to be able to float like a butterfly AND sting like a bee, Martin is your man.
Fergus "The Mini-Me Intern" Oswald
Fergus has contrasted Nick's "Arms Only" dance style by pioneering his own "Legs Only" approach. We have consulted with other world-class dance schools and understand that this style is so revolutionary, it will be in high demand. Please book your place early though as child employment legislation means that Fergus can only teach for a very limited number of hours per day.
What to do next:
1. Our Harlem Shake video will shortly become our new promotional video for the Bitesize Bio School of Dance. You can view it by clicking here.
2. Show your support for our Dance School for Scientists by purchasing limited edition "Topoisomerase Says Relax" or "Bitesize Bio School of Dance" t-shirts in our t-shirt store.
3. Join our Facebook page to stay updated on developments as we transition to the Bitesize Bio School of Dance. Click here to go to the page. Until the school of dance is launched, we will continue to post updates on new content on Bitesize Bio, as well as additional comment and content just for the Facebook page.
4. Wish us luck. We are going to need it.